Cutting / Vinyl Plotter - Graphtec Craft ROBO - Introduction
Based on years of cutting plotter technology by GRAPHTEC, the Craft ROBO & Craft ROBO Pro deliver professional style computer controlled cutting to the desktop.
Craft ROBO & Craft ROBO Pro cuts sticker and decal vinyls, masking film for painting or etching, vinyl lettering, decorative scrapbook papers, magnetic sheet, as well as all kinds of T-shirt heat transfer media like transfer paper, flex, flock for garments.
Both of the Craft ROBO series also comes standard with GRAPHTEC's ARMS (Automatic Registration Mark Sensor) so that you can contour cut or die cut printed media in full color from your laser or inkjet printer.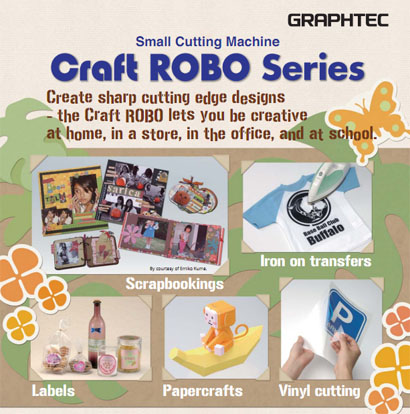 Picture: Small Cutting Machine - Craft ROBO Series (Download PDF)

Craft ROBO is Affordable
Craft ROBO has features typically only found on cutting plotters thousands of dollars more high-priced. Our engineers have adapted these features to fit Craft ROBO's size and price, making Craft ROBO an excellent value, and the perfect entry level cutter for students, yet powerful and functional enough to satisfy professionals for small desktop sized jobs.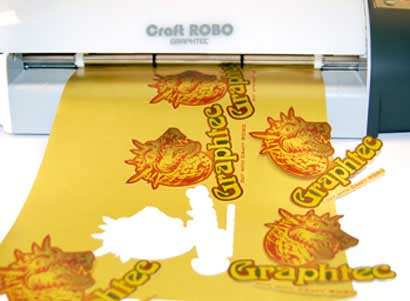 To know how the Craft ROBO Cutting Plotter is working, please see the YOUTUBE below.



The package includes:
• 
• 

1 external power supply (100~240VAC 1.2A input /24VDC 2.0A out)

• 

1 blade holder with 3 blade caps (0.1mm, 0.2mm, 0.3mm)

• 
1 6 foot USB 2.0 cable
• 
1 Installation Guide
• 
1 Application Guide with instructions for three basic projects.
• 
1 Carrier Sheet
• 
1 Software installation CD
(ROBO Master, Craft ROBO Controller and driver, Adobe Illustrator® Plug-in Cutting Master ROBO)